Summer Access to OCS
The Office of Career Strategy is open throughout the summer and students can still make appointments through the online appointment system. Regular walk-in hours are not held during the summer months; however if you have quick questions, email or call 203-432-0800 and ask to speak with an OCS adviser.
Visit the Calendar of Events for a full list of upcoming events. Log in to Symplicity under Events/Employer Information Sessions to RSVP.
---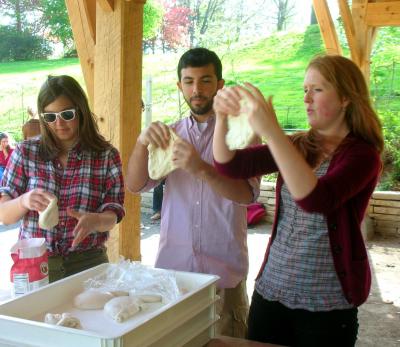 Upperclassmen are oftentimes the best resource for finding cool jobs and internships. I learned about my summer job at the Department of Labor from a senior who had worked there the previous two summers. Don't be shy about asking others for advice; they love talking about their previous jobs, and you'll probably learn about an opportunity that you never even knew existed.*
Largely, I feel I've accomplished the goals I set out for myself, though I did not expect to encounter such a large technical (and interpersonal) learning curve at work; now, however, I feel like I can tackle situations with daunting technical demands and new people much more easily, though at first I may shy away from attacking it as forcefully as I can. To build myself academically and professionally, I took extensive notes on what I was learning each day, technically or from interactions with others that touched on my communication skills.*
If you have been thinking about what you will do over next summer or after graduation, Office of Career Strategy (OCS), located at 55 Whitney Avenue, 3rd floor, and part of the Center for International and Professional Experience, can help you learn about options. Advisers are available to meet with you individually by appointment. You are encouraged to consult a counselor whether you are just beginning your job or internship search or are close to making a decision.
Students may also meet with a OCS adviser or a peer adviser without an appointment during walk-in hours for quick questions and brief cover letter and résumé reviews. OCS has extensive resources where students may get information about summer opportunities, graduate and professional schools, and permanent employment opportunities.
The UCS Web site offers excellent information on all career-related topics, including details about expanded domestic and international internship options and summer internships. Through the document library on the OCS Symplicity System, students can search where other students worked and contact them about their experiences.  It also includes a comprehensive calendar of UCS events. The online mock interview tool allows students to build mock interviews from hundreds of pre-recorded interview questions, record their performance, and save the mock interview for feedback. Visit Yale OCS Symplicity and click on Mock Interviews. There is a Student User Guide in the Document Library under the Resources tab which includes screen shots and detailed instructions.
In addition to getting information from OCS, you can consult the Association of Yale Alumni's Yale Career Network database, which includes listings from more than 14,000 alumni who have agreed to talk to students about career choices. The database is searchable by major at Yale, type of work, and other criteria.
* Please note that, although anonymous, these students gave permission for their quotes to be used.