Announcements
► Environmental Humanities Fall 2021 Course Listings
The Fall 2021 Yale Environmental Humanities guide to undergraduate and graduate course offerings is now available.
Yale offers dozens of courses each semester approaching environmental issues from diverse humanities perspectives. Some courses are entirely focused on the environment and the humanities; others approach the environmental humanities as one of several integrated themes. 
Undergraduate students interested in exploring the intersection of environment and culture— including literature, history, anthropology, philosophy, religion, the arts, and other humanities disciplines— are encouraged to sign up for the Yale Environmental Humanities newsletter that circulates every Monday morning during the semester. During the last year, the newsletter and calendar publicized more than 140 different events across the campus.
► Revisions to Mathematics Courses
The Mathematics department has revised its introductory math major sequence. The material taught in MATH 225, 230, 231, 250, 300 and 301 has been restructured into a new set of courses. The math curriculum revision site includes details about the changes and information for current students about transitioning to the new curriculum. Level 100 math courses, including all of calculus, are not affected.
► Peer Mentorship Program for Leave of Absence Students
The Yale College Council has launched a peer mentorship program for students considering a leave of absence or currently on a leave of absence. Information is available at this link.
►Spring 2021 ART DUS Office Hours
Prof. Lisa Kereszi, director of undergraduate studies in the Art Department, invites students interested in the Art major or students with questions about Art courses, to sign up for office hours. Students may also sign up for Art Major Sophomore Reviews using this link. Write art.dus@yale.edu for questions and details.
► Spring 2021 Sophomore Writing (WR) Seminars
ANTH 216, Migration & Development: Critical Perspectives, Jacob Rinck
ANTH 220, Human-Wildlife Conflict & Coexistence, Chloe Chen-Kraus
CLCV 310, Documenting Identity: Creating the Self from Antiquity to Now, Kyle Conrau-Lewis
ENGL 140, Chivalry, Power, and the Other, Emily Ulrich
ENGL 143, Writing the Gift: Creativity and Exchange in Literature and Theory, Lukas Moe
ENGL 144, Novel Technologies, Anna Shechtman
HIST 365J, Frontiers and Borderlands in the Modern Middle East, Kevin Gledhill
HSAR 481, The Traveling Object: Trade, Appropriation, Theft & Migration (1500-1820), Samuel Luterbacher
HSAR 483, Art and Philosophy, Christine Brandner
HUMS 291, The Real and the Virtual in Literature and Film, Anna Alber
ITAL 305, Nostalgia Epidemic and Cure, Megan Crognale
► Academic Strategies Program: Spring 2021 Workshops
The Academic Strategies Program released its spring 2021 workshop schedule in early January, with additional workshops to be added throughout the semester, based on student demand. The most up-to-date schedule is posted on the Academic Strategies' Campus Groups Events page, at https://yaleconnect.yale.edu/events_list. Students who register for a workshop receive reminder emails and the Zoom link.
New this term is  "How to Study Away from Campus: A Guide to Motivation, Organization, and Time Management" (https://poorvucenter.yale.edu/undergraduates/academic-strategies-program)
Additional information is available on the Academic Strategies Program webpage or by emailing  assistant director Dr. Lynda Paul, at lynda.paul@yale.edu.
► Economics Department Resources
Economics Course Consultations with Departmental Faculty
Students considering taking an economics course this spring will be interested to know that, in addition to Yale Course Search and the economics course description and course schedule websites, they may also gather course information by speaking with the course professor.
Introductory microeconomics will be taught in two formats in Spring 2021:
Econ 115 is a large lecture class. All students may pre-register for Econ 115
Econ 108 is a smaller course intended for students with limited or no experience in calculus. It places greater emphasis on quantitative methods and examples
Introductory macroeconomics (116) and introductory data analysis and econometrics (117) are large lecture courses that all students may pre-register to take.
Advice from Economics DUS and Majors
DUS Prof. Ebonya Washington is  holding extra 
office hours
. Just zoom in.  
The following peer mentors are available for advising:
►Math Advising Resources for Spring 2021
The Math Department has advising resources to help with course selection for Spring 2021. Click on the link or visit https://math.yale.edu/math-advising-resources-first-year-students for advice on placement, FAQs, math orientation video, and contact information for further questions about calculus courses. 
► Computer Science Advising Resources 
The Department of Computer Science has resources to advise students wanting to take a course in computer science and/or considering one of our majors (CS, CS + Econ, CS + Math, CS + Psych, or EECS).  Visit the 
Advice for First-Year Students Interested in Computer Science
 page for advice on course selection, descriptions of our majors, contacts who can answer your questions, and more.
► Virtual French Language Tables in Spring 2021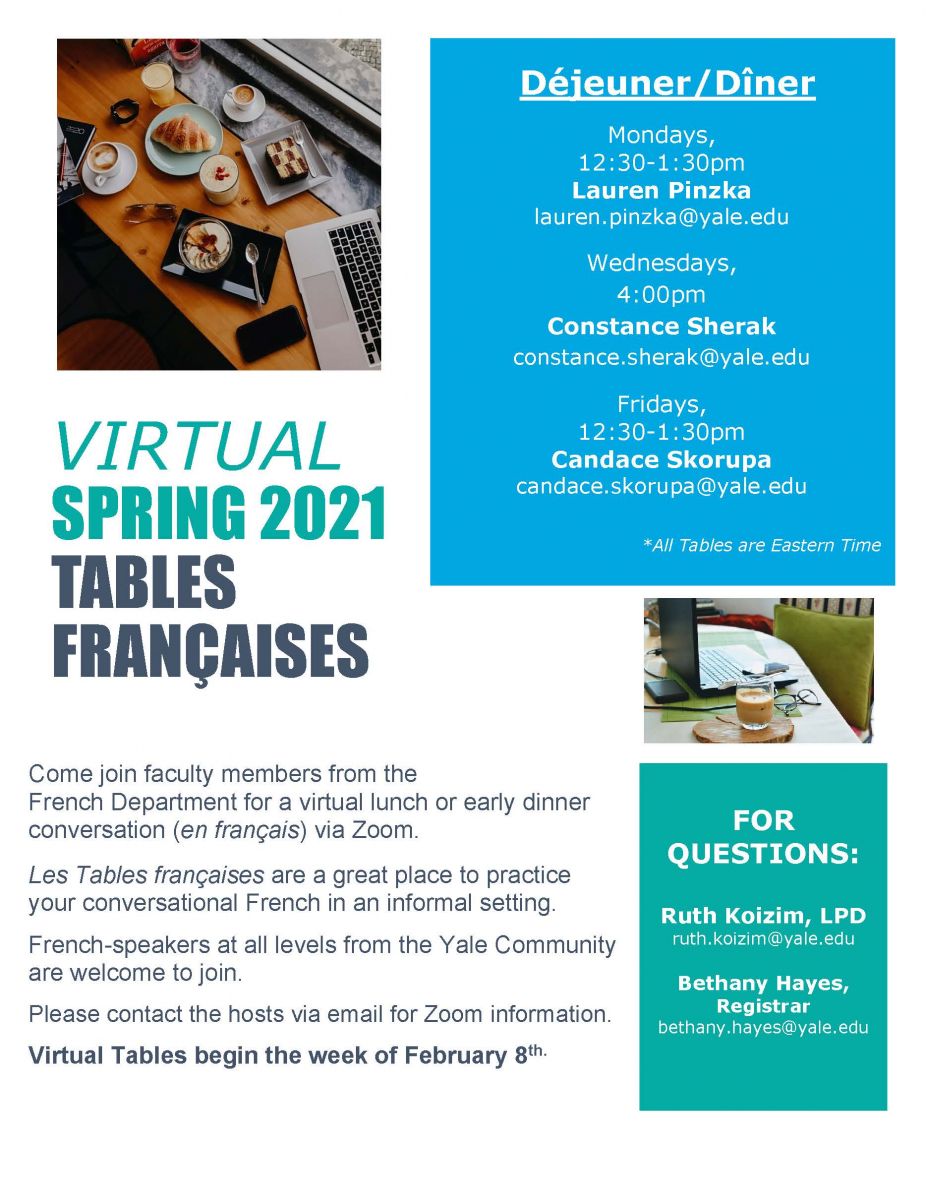 ►Certificate in Programming
The Certificate in Programming prepares undergraduates to program computers in support of work in any area of  study.  While the certificate does not provide the  same grounding in theory and systems that the computer science majors do, it does provide a short path to programming literacy that can be completed in a span of four terms.  Visit 
this webpage
 for more details.
►Molecular Biophysics and Biochemistry 2020-2021 "Quick Facts"
All students who desire information about the MB&B major, including faculty advising, the curriculum, working in a research lab, and MB&B activities are invited to click here for the MB&B "Quick Facts about Majoring in Molecular Biophysics & Biochemistry."
►Ethics, Politics and Economics Becomes Open Major for Class of 2024
The Ethics, Politics and Economics major will become an open major beginning for the Class of 2024, while remaining a highly rigorous, largely seminar-based interdisciplinary major combining the three disciplines of philosophy, political science, and economics.  Rather than applying to the major in the sophomore year as before, students will complete seven required prerequisite courses before gaining entry to EPE seminars. Details available on the EPE Website.
►Peer Mentoring and Peer Advising
Information about peer mentoring and peer advising, and links to some campus offices, departments, and majors that offer such resources, is available on the Peer Mentoring and Peer Advising page (under Your Adviser and Advising).
► Writing Center Resources
Residential College Writing Tutors: Professional writers, editors and teachers connected with your residential college. 
Peer Writing Partners: Single sessions with undergraduate and graduate students trained to offer feedback and positive support for your writing.
10-Session Writing Tutoring: Meet up to ten times with the same Writing Partner over the course of the semester. Sign up here or email ryan.wepler@yale.edu with questions.
► Graduate-Undergraduate Mentorship Initiative
The  Yale Graduate-Undergraduate Mentorship Initiative recently launched a  database that pairs Yale undergraduate  mentees with postdoctoral and graduate and professional student mentors from a wide range of fields. An experienced mentor can make all the difference, and GUMI aims to provide mentors who can impart valuable advice to undergraduates considering graduate or professional school.
►Yale IEEE Big Sib/Little Sib Program
Concerned about student diversity in SEAS majors and eager to provide advising to first-years and sophomores, the Yale IEEE student group has started a Big Sib/Little Sib group to help address both issues and welcome students of all backgrounds into the SEAS family. For information, contact Will Sussman or Tamar Geller.
https://forms.gle/sWHesPhCwcy99JrcA
►Course-based Undergraduate Research Experiences (CURES)
CURES are courses that offer opportunities for first-years and sophomores to get involved in STEM research  (no prior research experience required).  First-years and sophomores who seek additional information about CURES are advised to contact Prof. Paul E. Turner, Interim Dean of Science and Elihu Professor of Ecology and Evolutionary Biology. Course descriptions are available here.
►Major Roadmaps
The Yale College Deans Office in consultation with the Directors of Undergraduate Studies has undertaken a project to create a series of "roadmaps," or visual representations, indicating
how students go through that major
a typical course sequence, in some cases
Many majors offer multiple paths, and the maps are designed to facilitate comparison. The roadmaps and typical course sequences are visually uniform so that students may easily compare one major with another at a glance. 
There are currently over two dozen roadmaps; more are on the way.
More detailed descriptions of the requirements for each major can be found under Subjects of Instruction in the Yale College Programs of Study.
►Yale Undergraduate Research Association Database
The Yale Undergraduate Research Association (YURA)  released a new version of the Research Database (RDB), a cross-disciplinary, searchable, integrated database of 1400+ professors across all undergraduate departments and fields of study. It was built to help fellow undergraduates find potential mentors for research and beyond, and learn more about their professors.
The database can be found at https://yura.yale.edu/database.
Questions or inquiries can be addressed to yura@yale.edu.
► Applications Accepted for Environmental Studies Major
 Students interested in joining either the BA or BS Programs must complete a short application. Details can be found here. If you have questions, please email studies.environment@yale.edu.
EVST offers rolling admission to the major, and applications may be submitted at any time.
The Yale Environmental Humanities Newsletter also circulates every Monday to help students and faculty learn about public events happening across the campus. Undergraduates interested in finding out about Yale events in environmental history, politics, ethics, culture and the arts can sign up for the weekly newsletter here.
Email: environmentalhumanities@yale.edu
---
Fall 2020 Information
►*New* Sophomore Writing Seminars
New this year is a selection of writing seminars designed especially for sophomores. The purpose of these seminars is to teach students what constitutes inquiry and evidence in a given discipline and the conventions that govern writing within that discipline. Limited to 15 students each, they are aimed particularly at sophomores as they begin to think about majors. Each course carries the WR designation.
HIST 112J, Reconstruction: America's Second Founding, James Shinn
HIST 206J, Medieval Minds and Brains, Amelia Kennedy,       
HIST 207J, Medieval Britain: History from Art, Archaeology, and Literature, Sebastian Bezerra
HIST 369J, Media, Technology, and the Production of Power in Modern Africa, Matthew Keaney
HSAR 404, Decolonizing the Middle Ages

, Nicole Paxton-Sullo

HSAR 411, Art and Aesthetics in Germany, 1750 to the Present

, Laura Phillips

HUMS 291, The Real and the Virtual in Literature and Film, Anna Alber
MUSI 172, Music in Words: Controversy, Critique, Invective,  Brian Miller
MUSI 145, Music in Japan, Liam Hynes-Tawa
SOCY 218, Space, Time, and the African City, Denise Lim
Check back during the fall term for spring 2021 sophomore seminars!
► Music: Theory Placement Exam Cancelled; Info about Lessons
The Department of Music will no longer require a placement exam for theory courses. For updated information, please go to   https://yalemusic.yale.edu/undergraduate/placement-exams or to the new COVID-19 FAQ page  https://yalemusic.yale.edu/covid-19-faq-fall-2020.
Students interested in fall 2020 music lessons information are invited to click here.
► As a Freshman, You Can't Avoid Reinvention
Meera Navlakha writes in her The New York Times Opinion piece, "Before I went to college, I thought of change as something I could control." As a Freshman, You Can't Avoid Reinvention
►Women in Economics Study Hall
These weekly study halls, held every Sunday from 7-9pm EDT, are open to all students, especially first years and sophomores. The aim of these study halls is for women and other underrepresented minorities to work together and find community in the major. There will also be a tutor at each session to answer any questions students may have about problem sets or general concepts.
If you have any trouble joining, don't hesitate to reach out to me or Alice (alice.yan@yale.edu), and hope to see you there!
►

Center for Teaching and Learning

Read a Guide to CTL Academic Support Services:
Academic Strategies
Humanities and Social Science
Science and Quantitative Reasoning
Writing
Additional information is available at the tutoring web page and the advising tutoring page.
►What Influences International STEM Students' Decisions? 
A British Council survey of 1,348 international undergraduate and graduate students studying in Australia, Canada, the United Kingdom and the United States asked about factors affecting their decision making in choosing a country and course of study. The report found that undergraduates tend to choose U.S. universities with the goal of increasing their career prospects globally. Graduate students are drawn by perceptions of rigorous education and high-quality research, and affordability.
"The U.S. perhaps has the most well-rounded value proposition to international STEM students: it is a country where students perceive they can engage in high-quality education and gain skills and research experience to apply to work either there or in their home countries; post-study work experience in the U.S. has expanded and STEM students can now spend 29 months working – though there remains debate about the future sustainability of this policy," the survey report states.
The survey found that while significant numbers of international students hope to stay in their destination countries to work after graduation, a comparatively small proportion (15 percent) hope to migrate permanently.
Inside Higher Ed Quick Take.
---
►Goals for All Yale College Majors
The Yale College Dean's Office launched the "Intensive Majors Project" with, as its top priority, the goal of helping to advise students about their courses of study.  Other goals centered on the faculty, the departments, and Yale's national accreditation requirements.
It is expected that roughly fifteen majors will conduct self-reviews each year, allowing all majors to undergo review in a four- to five-year cycle, at which point — because major requirements and goals change over time — the self-reviews will begin anew.
You can now read the goals for each Yale College major, as approved by undergraduate departments and programs. 
---
►
Sophomores on Sophomore Year
"Sophomore year, and especially the summer after that, should be a time to explore different fields."
"Look ahead to junior and senior years because there are some provisions like studying abroad and class load in senior year that should be taken into account."
"You can still join extracurricular groups in sophomore year. It's a great time to try something new."
"It's OK if you don't have your entire life planned by now. Most will change their minds anyway."
"The best advice I can give about 'sophomore slump' is just to stick it out. Don't drop anything you've previously liked just because you're feeling down. Chances are, when your situation improves, you'll appreciate it even more. Be careful about making major decisions (changing a major, quitting an activity, etc.) when you know you're not really at your best."
"Don't be afraid to have fun! People get stressed out, but you should have a few nights when you just stay up watching movies with your friends. Make sure that you leave time for yourself in addition to all of your commitments. Also, sleep is good."