►Women in Economics Study Hall (Spring 2020)
These weekly study halls, held every Sunday from 7-9pm EDT, are open to all students, especially first years and sophomores. The aim of these study halls is for women and other underrepresented minorities to work together and find community in the major. There will also be a tutor at each session to answer any questions students may have about problem sets or general concepts.
If you have any trouble joining, don't hesitate to reach out to me or Alice (alice.yan@yale.edu), and hope to see you there!
►Online French Language Tables (Spring 2020)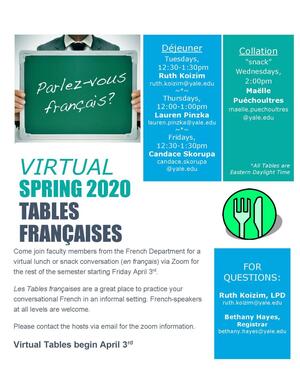 The French Department's French language tables moved online on April 3. All levels are welcome.
Questions? ruth.koizim@yale.edu or bethany.hayes@yale.edu.
►Peer Mentoring and Peer Advising
Information about peer mentoring and peer advising, and links to some campus offices, departments, and majors that offer such resources, is available on the Peer Mentoring and Peer Advising page (under Your Adviser and Advising).
► As a Freshman, You Can't Avoid Reinvention
Meera Navlakha writes in her The New York Times Opinion piece, "Before I went to college, I thought of change as something I could control." As a Freshman, You Can't Avoid Reinvention
►
Course-based Undergraduate Research Experiences (CURES)
CURES are courses that offer opportunities for first-years and sophomores to get involved in STEM research  (no prior research experience required).  First-years and sophomores who seek additional information about CURES are advised to contact Prof. Paul E. Turner, Interim Dean of Science and Elihu Professor of Ecology and Evolutionary Biology. Course descriptions are available here.
►Major Roadmaps
The Yale College Deans Office in consultation with the Directors of Undergraduate Studies has undertaken a project to create a series of "roadmaps," or visual representations, indicating
how students go through that major
a typical course sequence, in some cases
Many majors offer multiple paths, and the maps are designed to facilitate comparison. The roadmaps and typical course sequences are visually uniform so that students may easily compare one major with another at a glance. 
There are currently over two dozen roadmaps; more are on the way.
More detailed descriptions of the requirements for each major can be found under Subjects of Instruction in the Yale College Programs of Study.
►

Molecular Biophysics and Biochemistry "Quick Facts"

All students who desire information about the MB&B major, including faculty advising, the curriculum, working in a research lab, and MB&B activities are invited to click here for the MB&B "Quick Facts about Majoring in Molecular Biophysics & Biochemistry."
►Yale Undergraduate Research Association Database
The Yale Undergraduate Research Association (YURA)  released a new version of the Research Database (RDB), a cross-disciplinary, searchable, integrated database of 1400+ professors across all undergraduate departments and fields of study. It was built to help fellow undergraduates find potential mentors for research and beyond, and learn more about their professors.
The database can be found at https://yura.yale.edu/database.
Questions or inquiries can be addressed to yura@yale.edu.
► Applications Accepted for Environmental Studies Major
 Students interested in joining either the BA or BS Programs must complete a short application. Details can be found here. If you have questions, please email studies.environment@yale.edu.
EVST offers rolling admission to the major, and applications can be submitted at any time. 
The Yale Environmental Humanities Newsletter also circulates every Monday to help students and faculty learn about public events happening across the campus. Undergraduates interested in finding out about Yale events in environmental history, politics, ethics, culture and the arts can sign up for the weekly newsletter here.
Email: environmentalhumanities@yale.edu
---
►

Center for Teaching and Learning

Read a Guide to CTL Academic Support Services:
Academic Strategies
Humanities and Social Science
Science and Quantitative Reasoning
Writing
Additional information is available at the tutoring web page and the advising tutoring page.
►What Influences International STEM Students' Decisions? 
A British Council survey of 1,348 international undergraduate and graduate students studying in Australia, Canada, the United Kingdom and the United States asked about factors affecting their decision making in choosing a country and course of study. The report found that undergraduates tend to choose U.S. universities with the goal of increasing their career prospects globally. Graduate students are drawn by perceptions of rigorous education and high-quality research, and affordability.
"The U.S. perhaps has the most well-rounded value proposition to international STEM students: it is a country where students perceive they can engage in high-quality education and gain skills and research experience to apply to work either there or in their home countries; post-study work experience in the U.S. has expanded and STEM students can now spend 29 months working – though there remains debate about the future sustainability of this policy," the survey report states.
The survey found that while significant numbers of international students hope to stay in their destination countries to work after graduation, a comparatively small proportion (15 percent) hope to migrate permanently.
Inside Higher Ed Quick Take.
---
►Goals for All Yale College Majors
The Yale College Dean's Office launched the "Intensive Majors Project" with, as its top priority, the goal of helping to advise students about their courses of study.  Other goals centered on the faculty, the departments, and Yale's national accreditation requirements.
It is expected that roughly fifteen majors will conduct self-reviews each year, allowing all majors to undergo review in a four- to five-year cycle, at which point — because major requirements and goals change over time — the self-reviews will begin anew.
You can now read the goals for each Yale College major, as approved by undergraduate departments and programs. 
---
►
Sophomores on Sophomore Year
"Sophomore year, and especially the summer after that, should be a time to explore different fields."
"Look ahead to junior and senior years because there are some provisions like studying abroad and class load in senior year that should be taken into account."
"You can still join extracurricular groups in sophomore year. It's a great time to try something new."
"It's OK if you don't have your entire life planned by now. Most will change their minds anyway."
"The best advice I can give about 'sophomore slump' is just to stick it out. Don't drop anything you've previously liked just because you're feeling down. Chances are, when your situation improves, you'll appreciate it even more. Be careful about making major decisions (changing a major, quitting an activity, etc.) when you know you're not really at your best."
"Don't be afraid to have fun! People get stressed out, but you should have a few nights when you just stay up watching movies with your friends. Make sure that you leave time for yourself in addition to all of your commitments. Also, sleep is good."