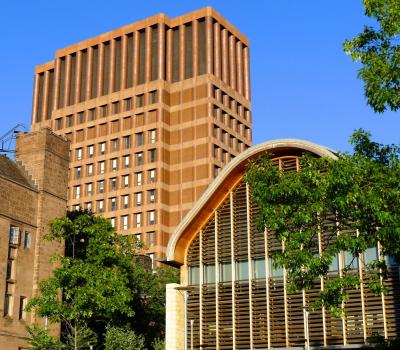 Useful Contacts, Resources and Links
Yale College Pre-med Contact Info
Kristin R. McJunkins
Director, Health Professions Advisory Program
Yale University Office of Career Strategy
55 Whitney Avenue
New Haven, CT  06520-8303
Students are encouraged to explore the resources and links on the Pre-Health Studies Overview webpage in order to help them as they consider health profession careers, including careers in medicine, dental medicine, veterinary medicine, public health, nursing, and other health professions.
The Health Professions Advisory Program also maintains information about application timelines.
The Yale Health Professions handbook as well as Dean Sandy Chang's "Guide to STEM at Yale"(both pdfs) are valuable resources for STEM majors and premeds alike (Dean Chang is the Associate Dean for Science Education in Yale College and a professor of Laboratory Medicine, Pathology, and Molecular Biophysics and Biochemistry; s.chang@yale.edu).
Health Professions Newsletter Signup
Map showing where graduates from Yale University have enrolled in health profession programs
Medical School Admissions Initiative
Preparing to Become a Health Care Practitioner (PDF)
---
"I found the pre-med office very helpful, especially the curricular meetings about premed requirements that they offer each day during shopping period and the e-mail newsletter they send out during the year."
Philosophies of education, course requirements, qualifications for enrollment, and systems of training vary among the nation's medical and other health care professional schools, but all schools recognize the desirability of a strong foundation in the natural sciences, highly developed communication skills, and a solid background in the social sciences and humanities.
Many students preparing for health care professions major in science, although this is by no means necessary. Whether you major in the sciences, the humanities, or the social sciences, your program must be rigorous and thoughtfully organized, because medical and other professional schools are most concerned with the quality and scope of your work. Students who major outside the sciences, and who take the minimum number of science courses required, must do very well to ensure adequate preparation for—and favorable consideration by—medical schools.
All medical schools require one year each of biology, physics, general chemistry, and organic chemistry, all with labs. Many schools also demand a year of college mathematics and English. Advanced placement cannot usually substitute for these, but students who qualify should enroll in higher-level courses. Although most medical schools do not require them, advanced courses relevant to medicine (such as biochemistry, cell biology, and genetics) are strongly recommended. Experience in statistics and psychology is also becoming increasingly important for all health care professionals. Schools for other health care professions, such as osteopathic and dental medicine, have similar requirements.
Courses that fulfill the requirements for medical school must be taken for a letter grade. Grades below C in such courses are not accepted.
There is no prescribed sequence for premedical courses, but since you will be judged on the basis of the work you have completed by the time you apply for admission (for students going directly to medical school after graduation, normally the summer after junior year), you should plan to finish the required courses before senior year. Freshman premedical students often elect two courses each term in the areas of science and mathematics. Most students will want to fulfill the general chemistry requirement during their first year in addition to some course work in biology, mathematics, or both.
In addition to discussing your course selections with your sophomore adviser, you may wish to consult a health professions adviser at Undergraduate Career Services (UCS), 55 Whitney Avenue, third floor. The UCS Web site offers further information about many different health professions.
Many students complete the general chemistry requirement with one of two full-year introductory chemistry courses: CHEM 112, 113, Chemistry with Problem Solving; or 114, 115, Comprehensive General Chemistry. Students who place into the single-term CHEM 118, Quantitative Foundations of General Chemistry, may complete the general chemistry requirement by taking CHEM 252, Introductory Inorganic Chemistry, MCDB 300, Biochemistry, or at least one term of MB&B 300 and 301, Principles of Biochemistry, usually in sophomore or junior year, each with the appropriate lab. First-year students who complete CHEM 124, 125 or 220, 221 should consult a health professions adviser at UCS about options for fulfilling the two-year chemistry requirement. Students with placement equivalent to MATH 115, Calculus of Functions of One Variable II, should consider taking an additional mathematics or statistics course. Students can meet the physics requirement by taking PHYS 170, 171, University Physics for the Life Sciences; 180, 181, University Physics; or 200, 201, Fundamentals of Physics.
A useful guide to medical school course requirements is the Medical School Admission Requirements Handbook published by the Association of American Medical Colleges. You will find it in the UCS library. Also available at UCS is "Preparing to Become a Health Care Practitioner," a helpful guide to planning your premedical education and related activities.
Academic performance is an important admissions criterion, but it is by no means the only one. One bulletin states, "Preference is given to those who have demonstrated interest in and commitment to human services." The New Haven and Yale communities offer many opportunities for service. Yale–New Haven Hospital, the Hospital of St. Raphael, Connecticut Hospice, Leeway (a long-term skilled nursing facility for AIDS/HIV patients), Fair Haven Community Health Center (serving primarily New Haven's large Hispanic population), and Hill Health Center (providing care to low-income and underserved populations in New Haven) are some of the organizations that sponsor volunteer programs open to Yale students. For a comprehensive list of Yale and New Haven volunteer opportunities, consult the Web site of Dwight Hall, the Center for Public Service and Social Justice at Yale. Further information is given in a UCS pamphlet, "Health Care–Related Volunteer and Community Service Opportunities in the New Haven and Surrounding Areas."
The Health Professions Advisory Program supports a resource library that contains information about admission to medical, dental, veterinary, osteopathic, and other schools; admissions data on previous Yale applicants; and student reports about medical school interviews. Students interested in a career in health care are urged to use these services and resources. Further information is available on the Health Professions pages of the UCS Web site. Premedical curricular meetings are conducted during course selection period ("shopping period").