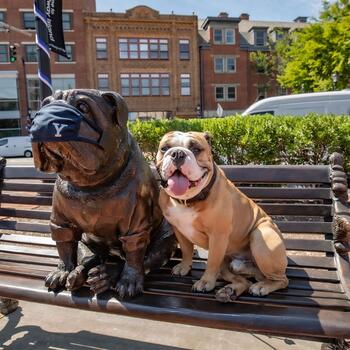 It's your first college course schedule. How do you put it together? Some* factors to consider include:
explore one or more new subjects. How many subjects did your high school offer? Compare that to Yale's 80+ majors and branch out! Maybe you enjoy or want to learn about anthropology, architecture, or astronomy — and those are just the A's. The corollary is: think twice about replicating your high school schedule
take at least one small course or seminar where you will have the opportunity to get to know an instructor and engage in discussions with classmates
fulfill one or more distributional requirements (also keep in mind that you have many semesters ahead of you to fulfill all of them)
consider an introductory English course to improve your writing skills
explore Yale's language offerings (48, at last count)
are you considering medical school? Read Preparing for Health Care Professions and Dean Chang's Advice for Premeds (page 15-19), and remember that your first semester should include a variety of subject matters
keep your literal schedule in mind and spread out your courses over the week, balance your mornings and afternoons, and include time for breakfast, lunch, and dinner, and for sleep
look up assignment types on the course syllabi you're considering and build in variety — neither all exams nor all papers
look up the assignment due dates, too. Some courses are built around weekly assignments; others around a midterm and a final; and others around a major final assignment. Build in variety
check out the First-Year Seminars, designed especially with frosh in mind
browse the First Year tabs in the Yale course catalogue — there's one for every subject of instruction with course-selection advice specifically for first-year students
are you considering a STEM major? Check the First Year tabs in that subject of instruction
use Yale Course Search like a pro: use the Yale College Attributes pulldown menu to search by distributional requirement, First-Year Seminar, etc.; use the Any Meeting Time tab to see which courses fit your schedule; and use the Course Demand Statistics tab to discover how many students put specific courses on their registration worksheets (i.e., a good indication of final enrollment)
remember to use your two expiring Credit/D/Fail options during your first year in order to explore anxiety-free
*Those are a lot of factors, but some will resonate with you more than others. Focus on those and seek advice from your residential college dean, your first-year counselor, and your college adviser (for more on those roles, see Your Primary Advisers and the Your Adviser and Advising section of this website).
What if you don't get into your first-choice course? Yale offers approximately 2,000 courses a year: there are many, many amazing courses on offer and finding the ones that work for you may just require thinking outside of the (high school) box.