Click here for a listing of Virtual Academic Fair events on Yale Connect
Virtual Academic Fair in Fall 2020
What is the purpose of the Virtual Academic Fair?
To showcase courses, majors, programs and departments

To provide an occasion for incoming students to seek guidance and accurate information about courses, placement, and prerequisites for majors

To allow students to meet the director of undergraduate studies, other faculty, staff, or majors in each department

 To share news of upcoming departmental initiatives or events

To distribute departmental contact information for follow-up meetings
All first-year students, including transfer students, and Eli Whitney students. Returning students are also welcome and, every year, some sophomores, in particular, attend.
How will the Virtual Academic Fair run and how will it be different this year?
This year's Academic Fair will be all-virtual, as will all of First-Year Orientation, with Zoom meetings being the norm. First-Year Orientation runs from August 3-28, 2020.
August 4, 7, 11, and 14 have been set aside for academic events featuring Yale's 80+ subjects of instruction. 
A Yale College Website landing page will launch soon with two links per department or major:
a link to each department's undergraduate section, where links to any department's or major's Virtual Academic Fair Zoom meetings will be posted
a link to the Yale College Program of Studies First Year tab with course information specifically for first-years
Yale College academic resources offices, such as the library, the Center for Language Study, the Writing Program, and many more, have been invited to schedule their own Zoom meetings on other dates in August.
Virtual Academic Fair Calendar
All students new to Yale are encouraged to browse the First-Year Orientation calendar on YaleConnect for department, major, and academic resource office listings.
To whom should I address questions about the Virtual Academic Fair?
Please direct any Virtual Academic Fair questions to Risa Sodi, Assistant Dean of Academic Affairs and Director of Advising and Special Programs, at advising@yale.edu.
---
In-person Academic Fair in Non-COVID Years
Date: the Academic Fair takes place just before the fall term, on the Tuesday prior to the first day of classes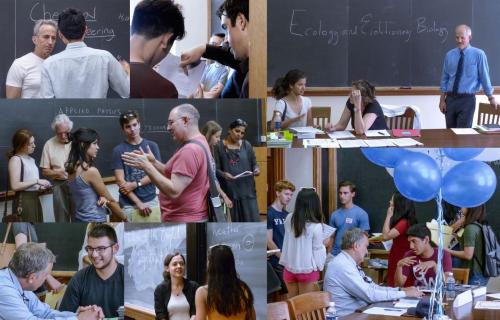 Time: 2:00-3:30 p.m.

Locations: WLH & LC.
A directory of room assignments (downloadable and printable) is  available here. A map showing the locations of WLH and LC is available here.
For students
[Coming in fall 2021]
for faculty and departments
Who should attend?
The director of undergraduate studies is the logical choice to attend the Academic Fair. Many departments recruit additional faculty members to attend, especially those with introductory courses that appeal to freshmen. Some have also found success by enlisting senior majors or members of the departmental Student Advisory Committee to help answer student questions.
Many of humanities departments and programs are in LC, and the remaining humanities departments along with the social science and science departments and programs are in WLH.  Click here for this year's room assignments. 
Which room?
This year's room assignments will generally follow last year's, and will be emailed to all DUSes and DUS assistants in August. The floor plans for WLH and LC are both online.
What, if anything, should I bring with me?
Departments with roadmaps are strongly encouraged to bring copies with them.
What are good ways to handle strong student interest in my department or program?
In past years, departments with strong student interest (including, but not limited to, those with high-enrollment first-year courses, such as MCDB and MB&B, Chemistry, Economics, Mathematics, Psychology, etc.) have handled high student attendance by bringing several faculty members, besides the DUS, to the Academic Fair.  Often, chairs, course coordinators, departmental registrars, and senior majors flank the DUS and associated faculty.
Whom should I contact with Academic Fair questions?
Please direct any Academic Fair questions to Risa Sodi, 
Assistant Dean of Academic Affairs and Director of Advising and Special Programs, at
risa.sodi@yale.edu
 or 203-432-8427.